Jeremy J. Kobeski
Senior Associate Attorney at Grenen & Birsic, P.C.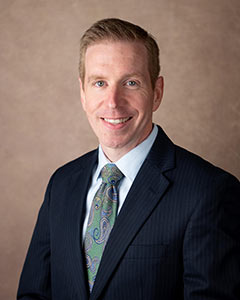 Email Address:  mailto:jkobeski@grenenbirsic.com
Phone: 412-281-7650
FAX: 412-281-7657
Mr. Kobeski has more than a decade of experience with a large Philadelphia based creditors' rights law firm. While representing lenders, mortgage servicers, and banks, Jeremy has appeared in state and federal courts across the state of Pennsylvania, including all three Bankruptcy Court Districts.
Jeremy joined Grenen & Birsic, P.C. in July, 2020 and focuses his practice on workouts, consumer and commercial foreclosures, commercial bankruptcy cases and lender liability defense cases.
Education
University of Pittsburgh, Bachelor of Science in Biological Sciences, 2002
Widener University Delaware Law School, Juris Doctor, magna cum laude, 2004
Donald E. Pease Best Student Article Memorial Award
Publication
"In re Oracle Corporation Derivative Litigation: Has a New Species of Director Independence Been Uncovered?", 29 Del. J. Corp. L. 849 (2004).
Admissions
Supreme Court of Pennsylvania, 2005
Supreme Court of New Jersey, 2005
United States District Court for the Western District of Pennsylvania
United States District Court for the Middle District of Pennsylvania
United States District Court for the Eastern District of Pennsylvania
Member
Allegheny County Bar Association
Pennsylvania Bar Association